Deciding to switch from GVO to GetResponse was NOT an easy decision as I've been using GVO for over two years now. This is where I've built up my email lists and have hosted several of my website domains.
So why now? Why after all this time would I go through the headache of switching from GVO to GetResponse? What would cause me to painfully change out all my web forms on all of my capture pages? I explain in the video below…
Why I Switched From GVO to
GetResponse
Why I Switched From GVO to GetResponse
Poor quality of service was the main reason I switched from GVO to GetResponse as I explained in the video. I'll briefly list these reasons below just in case you didn't watch the video…
GVO Hosting Issues – If you're an Internet marketer, you're websites are you 'bread and butter.' So when I go to my websites and direct prospects to them I expect them to work.

There's been far too many times when they haven't been… especially during prime peak hours. GetResponse doesn't have a hosting option, so I've had to find another company for my website hosting.
GVO Email Delays – When I schedule and email to go out on a certain day and time I expect it to be sent at that certain day and time… not over an hour later! Like the hosting, this has happened way too often and stinks when I'm trying to email my list to get on a last minute webinar.
GVO Email Deliverablity – I found that a lot of my emails would get delivered, but to the spam or junk folder… even on the first send. It's kind of difficult to do any email marketing if my subscribers aren't even seeing my emails.

The ones that do get my emails, it seems like after three or four they then get filtered to spam. Probably not a lot of control over this, but expecting better results with GeResponse.
GetResponse Courtesy Call – After my 30-day free trial ended, and I pulled out my credit card and bought GetResponse, a couple of days later I got a courtesy call from GetResponse customer service welcoming me to the company and asked if I needed any help or questions.

I thought that was really neat and pretty much sealed the deal for me. GVO customer service is somewhat lacking and definitely doesn't have the same personal touch.
---
If you learned something from this post,
please like, comment and share it with
your friends!
Remember only YOU have the CHOICE
to make it a FANTASTIC day! 🙂
Your Partner in Success,
EVAN SCORESBY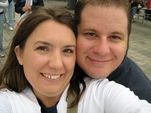 To work with me directly, click here.
Connect with me on Facebook.
P.S. Get 7 Free Videos of Online Sponsoring Secrets
that will help you get more leads, sponsor more reps
and make more money!