Have you ever experienced overwhelm in your online business?
I have…in fact, you're not alone. There's A LOT of people who feel exactly the same way.
There's so many things that you could be doing to build your business and a lot of times it leaves a sense of overwhelm, which leads to discouragement, which leads to not doing anything at all! Been there. Done that.
Well, I want to share with you one simple step to overcome overwhelm in your online business that came to my realization as I was looking at a sink full of dirty dishes.
As you can see from the picture above, there was a pile of dishes that collected in the sink a few days ago in my kitchen. When I first looked at it a sense of dread came over me followed by that sense of overwhelm!
I mean…look at all those dishes!!! Wouldn't you feel the same way?
The thought crossed my mind to go take a break on the couch and look at my phone, but knew I wouldn't come back and get them done…
…I decided to follow one simple step that I often coach others about with building their online business:
Take it one "dish" at a time.
We can't do everything at once and expect to keep our sanity. The things that you need to do may seem insurmountable and seeing the light at the end of the tunnel may just be a speck, but typically when you take one thing at a time before moving on to the next that sense of overwhelm seems to go away! Before you know it…
It looks like this!!! Just looking at that picture pleases me. I get a sense of gratification of looking back on what I accomplished and was able to get done. I feel the same way in building my business.
Please comment below and share what you have done to overcome overwhelm in your business.
---
If you learned something from this post, please like, comment and share it with your friends!
Remember only YOU have the CHOICE
to make it a FANTASTIC day! 🙂
Your Partner in Success,
EVAN SCORESBY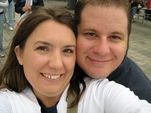 To work with me directly, click here.
Connect with me on Facebook.
P.S. Attention Internet Marketers: There are two main tools you need – email marketing platform and a landing page creator. Now you can get both in one place for a low monthly cost! Plus they offer a FREE 30-Day trail! Click here to learn more.