Making money with Facebook fan pages is one of the best ways to promote anything you want. And it's free. Yes, free.
All you need is a Facebook account to get started with their fan page feature and can customize it however you want to appeal to whomever you want.
When you're first getting started with your page and before you start promoting it, it's a good idea to get some a few hundred or a few thousands likes to your page for the sole purpose of social proof.
See, there's something psychological that goes through someone's mind when they see a page that already has a large following. Prospect are more likely to take a serious look at it and like your page as well.
Step-by-Step to Get Dirt Cheap Facebook Fan Page Likes
Here's how you can get some cheap quality likes to your fan page where for five bucks you can get up to 5,000 likes to your page (watch video OR follow instructions below the video):
Click Here to go to Fiverr where you can pay somebody five bucks to get you likes to your page.
Click on the big green button that says, "GET STARTED". (See Picture)
Join Fiverr by putting in your email address OR by choosing the Facebook or Google Connect options. (See Picture)
Next, create a username and password (be sure to write it down). (See Picture)

In the search box, type in "facebook likes" and select facebook likes "in Fan Pages" from the list of options. (See Picture)
Find a seller that has a 5-star rating offering 500 likes. It's not recommended you purchase more than 500 likes. Select (click) on the one of your choice. (See Picture)
Click the big green button that says, "Order Now". (See Picture)
Choose your payment option, fill in the required information and select the big green "Continue" button. (See Picture)
After you submit your payment, you'll get a message or notification from the selling asking you to provide the URL link to your Facebook Fan Page (i.e. http://www.facebook.com/Your-Page-Name-Info-Here).
I only recommending doing this once per fan page and again this is only for social proof. Don't expect to get any business from the people who like your page using this method. That's why I only like to be conservative and only order between 500-1,000 likes. You'll find that you'll probably end up getting a lot more anyway.
---
If you learned something from this post, please like, comment and share it with your friends!
Remember only YOU have the CHOICE
to make it a FANTASTIC day! 🙂
Your Partner in Success,
EVAN SCORESBY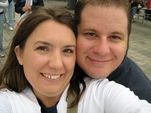 To work with me directly, click here.
Connect with me on Facebook.
P.S. Attention Internet Marketers: There are two main tools you need – email marketing platform and a landing page creator. Now you can get both in one place for a low monthly cost! Plus they offer a FREE 30-Day trail! Click here to learn more.