If you're just getting started in affiliate marketing, chances are you'll first be turning to ClickBank to get access to affiliate offers to promote.
But the questions I get asked most often are:
"How do I choose a product to promote?"
"What do I look for?"
"How will I know if it will be good or not?"
There's definitely a strategy I personally use when deciding to promote a particular affiliate offer. The offer needs to meet some specific criteria before I would even think to promote it and make it worth my time.
Even if you are a seasoned affiliate marketing or have been doing it a long time, this information may be valuable as you may learn something you didn't know before that will help with your product selection.
Choosing an Offer to Promote in ClickBank
The strategy I outline in the video below applies specifically to ClickBank, but a lot of it can also be applied when searching for any affiliate offer with any affiliate network.
Get Access to ClickBank
Summary of Key Points to Consider
As outlined in the video above, the following are some key points to consider when choosing an offer to promote in ClickBank:
Initial/Average Sale: I like to find high payout offers. Minimum of $30 payout or more. When you promote offers that have a low payout it's easier to lose money when promoting it because it lowers your ROI.
Average Rebill: Any number in this stat is good. It basically means residual income. The product contains some type of membership site that buyers automatically enroll in and get "rebilled." When that happens, you continue to get paid for doing the work once.
Gravity Score: Referred to as "Grav" in ClickBank. This number measures the popularity of an item determined by the number of affiliates promoting that product and conversion rates. Popularity is good my friend. I like looking for competitive offers because I know they're in demand and people are buying. Look for a gravity score of at least 50 or higher.
Affiliate Sales Page: Click the title of the offer in ClickBank to look at the sales page. I look for something that doesn't require a prospect to "opt-in" to get information or to buy. I don't want help build someone else's email list.

Plus I look to see where the "call to action" button is. I want something above the fold, meaning, I want the buy now or join now button at the top somewhere so prospects don't have to scroll down to get to it.
Alexa.com: The last thing I do, is take the root domain of the affiliate sales page from ClickBank and see where it ranks on www.alexa.com. I want the page to rank globally between 1 and 100,000 most visited websites. If it's more than that, not really worth it in my opinion.
There you have it my friend, how to choose an offer to promote in ClickBank. I hope this helps you when deciding on affiliate offers to promote.
---
If you learned something from this post, please like, comment and share it with your friends!
Remember only YOU have the CHOICE
to make it a FANTASTIC day! 🙂
Your Partner in Success,
EVAN SCORESBY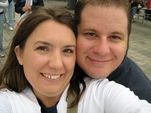 To work with me directly, click here.
Connect with me on Facebook.
P.S. Make sure you purchase a domain name to associate with your affiliate offers. It's a great way to promote your offers.